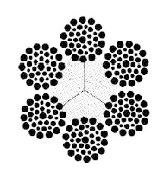 Strands: 6
Wires per strand: 27 to 49
Core: IWRC or fiber core
Standard Grade: Purple Plus
Lay: Regular or Lang
Finish: Bright or galvanized
The 6×36 Class of wire rope is characterized by the relatively large number of wires used in each strand. Ropes of this class are among the most flexible available due to the greater number of wires per strand, however their resistance to abrasion is less than ropes in the 6×19 Class.
The designation 6×36 is only nominal, as in the case with the 6×19 Class. Improvements in wire rope design, as well as changing machine designs, have resulted in the use of strands with widely varying numbers of wires and a smaller number of available constructions. Typical 6×37 Class constructions include 6×33 for diameters under 1/2″, 6×36 Warrington Seale (the most common 6×37 Class construction) offered in diameters 1/2″ through 1-5/8″, and 6×49 Filler Wire Seale over 1-3/4″ diameter.