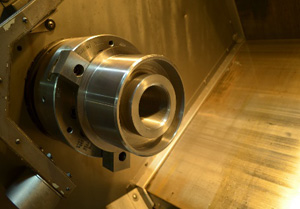 Profile
A global manufacturer of industrial lifting equipment.
Customer challenge
When our customer needed fast turnaround on a 37-ton alloy swivel shank hook with a fabricated bearing retainer nut they called Assembly Specialty.
Assembly Specialty solution

Our purchasing department quickly located and ordered the standard hook with expedited delivery. Our engineering team created drawings in Solid Works 3D CAD design and analysis software to modify the standard hook and to design the bearing retaining nut.
The hook shank was machined to the appropriate diameter and threaded with 3" – 8 UN 2B threads on one of our dozen computer controlled lathes. The bearing retaining nut was then cut from 7" diameter AISI 4130 alloy steel round stock and machined to accept a crane hook thrust bearing ring, then threaded to mate perfectly with the threads on the hook shank.
The finished hook assembly was picked up by the customer and delivered to the job site in less than two weeks.